Which countries really suffer from immigration?
Knaus: EU migration pact is unrealistic
Deutsche Welle: In its proposal for a so-called migration pact, the EU Commission attaches particular importance to the fact that returns and deportations of people without asylum claims or refugee status are carried out more intensively. Why hasn't that worked so far? And will things get better with the pact?
Gerald Knaus: First of all, we only have one proposal from the Commission on the table. The member states have not yet agreed and I can well imagine that this pact, as proposed, will never be implemented. If it is implemented, then I believe that it will not have a decisive impact on the question of deportations. Because the basic problem with deportations, which not only Germany, Italy, Spain, France and other countries had in the past years and decades, is above all the lack of cooperation between the countries of origin.
We just need to look carefully at which countries deportations work. Then we see that the vast majority of deportations take place in countries to which the EU has offered something attractive, such as in the case of Ukraine, Moldova, Georgia and the Balkan countries, where it was visa liberalization. But for most countries in the world these incentives are missing. As a result, Germany was only able to deport a thousand people in the first half of the year. It is not clear to me how this migration pact will change that.
EU Commissioner Ylva Johansson, who is responsible for migration, claims that there are 24 agreements with countries of origin - but not all of them really work. Is the EU Commission just more optimistic now, even though it knows that it cannot work that way?
There have never been so few deportations as in the past six months. It will certainly not get any better next year due to the corona restrictions. But even before Corona in 2019, Germany, for example, was only able to deport 4,000 people to countries outside Europe. I do not know where the Commission gets its optimism from. The negotiations that the EU Commission has conducted with African countries in recent years have not shown any results with regard to returns. The key problem is that the Commission has not really analyzed why deportations have not worked in recent years.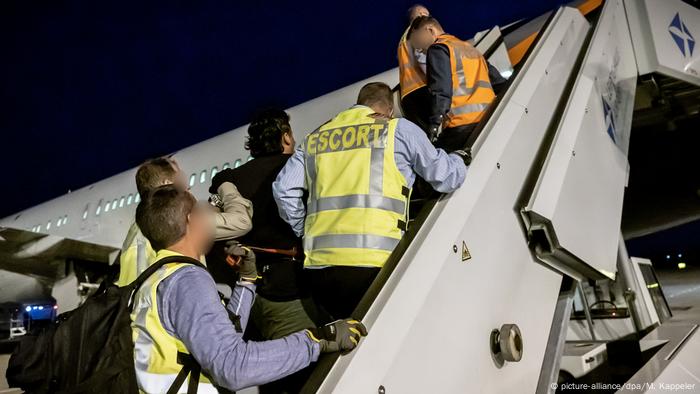 Deportation of a rejected asylum seeker - soon with a sponsor? (Archive 2019)
Increased deportations are part of the new mechanism that the EU Commission calls "binding solidarity". The countries that do not want to accept asylum seekers should at least help to deport those who are not entitled to asylum. They should take on so-called deportation sponsorships. But if deportations don't work, how should the solidarity mechanism work?
It's just a fake solidarity. It would be much more honest to say that there are countries that do not want to accept recognized refugees. Instead, you could make a higher financial contribution to certain things. Pretending that deportation sponsorships that would never work are a form of solidarity is not particularly convincing. That doesn't help anyone.
On Thursday, the Hungarian Prime Minister Viktor Orban, together with colleagues from Poland and the Czech Republic, went to the EU Commission President and made it clear that he rejects deportation sponsorships and solidarity services. Does the so-called migration pact even have a chance of being implemented if there is resistance at this point from the countries that do not want to accept anyone?
If the EU spends the next few months trying to convince Hungary and Poland and other countries of this, it will be a complete waste of time. The constructive strategy that is in the interests of Germany must be that countries like Germany and others ask the question: What do we need for external borders? What rules and values ​​do we want in order to ensure the often violated human dignity at the external borders? How can we and with which states can we reduce irregular migration, especially from those who will ultimately not get protection in the EU? Fast and fair procedures are actually a sensible goal here. But you need realism in how to do it. Germany would have an interest - together with Greece, Italy, Spain and Malta - in quick procedures and offers for main countries of origin. That is completely detached from the question of how many other states in the EU are participating.
The EU Commission wants to enforce registration in five days and a quick asylum procedure for people with no great prospect of success in twelve weeks directly at the EU's external borders. To do this, you have to detain these people in camps at the external borders, maybe even longer while they are waiting to be deported. So will we need a whole lot of new warehouses in the style of Moria or Kara Tepe not only in Greece, but also in Italy and Spain?
I believe the goal is to have quick and fair trials. But I don't understand why this should be limited to those with little prospect of asylum. It almost sounds like these border procedures are a punishment. In reality, it would be better to go through all asylum procedures quickly. This is primarily a question of resources and organization. That would be possible today! So, if you want that and you have the resources, the asylum procedures in Greece could already be completed in a few weeks.
This does not require a new pact. The faster you do the procedure, the better. Otherwise people will actually have to be held for a long period of time. If it is not clear what happens in the event of a negative decision, if people are then detained for up to eight months as part of the deportation sponsorships, then camps are set up that are similar to Moria. But I don't see any country on the Mediterranean that would voluntarily accept such camps. Resistance to the proposals of the EU Commission will come not only from the Visegrad countries (Poland, the Czech Republic, Slovakia and Hungary, editor's note), but also from the countries on the Mediterranean.
So, in summary, can you say the whole thing is an unrealistic proposal that will never be implemented?
It is an unrealistic proposal that does not solve the problems that exist for asylum seekers and the countries at the external borders. Germany suffers from the fact that many states do not apply the laws that already exist and many, including recognized, asylum seekers move on from these states. The federal government actually has a couple of very good goals in its strategy for addressing these problems. However, the proposed pact is not a step towards achieving these goals.
Migration expert Gerald Knaus is a sociologist and heads the European Stability Initiative (ESI) think tank in Berlin. Knaus is considered the father of the refugee agreement between the EU and Turkey in 2016 when he advised the German government.
Interview conducted by Bernd Riegert.