Https trafficnetworkads com is a scam site
Traffic Network Ads - TNA | Serious RevShare or another rip-off?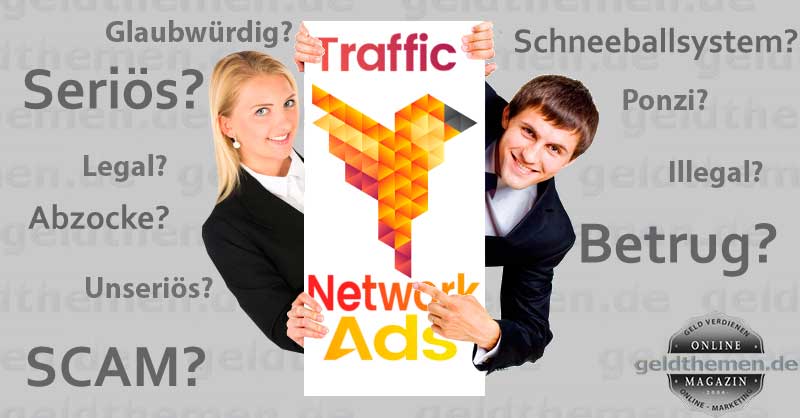 TrafficNetworkAds, TNA presents itself as a cashback program. Can this concept convince?
WithTraffic Network Ads, abbreviated TNA, has another, as an advertising platform after the so-called RevShare concept (reimbursement / revenue sharing for booking advertising) of operating providers enter the market. Representatives of this genre have not covered themselves with fame in the past and, on closer inspection, turned out to be questionable and, in the cases we examined, even to be dubious and fraudulent constructs working as a pyramid scheme. In this article, we examine whether it is different with Traffic Network Ads and whether we are dealing with a reputable provider with a viable concept that actually works mathematically.
Traffic Network Ads - Information
Traffic Network Ads is under the domaintrafficnetworkads.com to reach. The website is only available in English. * Addendum: The website is now also available in German at trafficnetworkads.com/de/.
You will look in vain for an imprint or at least an "About us" or "Über uns", in which the company behind TrafficNetworkAds or its backers introduce themselves. An address in Hong Kong is given in the footer of the website:
REDROCK MEDIA SOLUTIONS LIMITED
31 / F, Chinachem Century Tower
Wanchai
Hong Kong
According to (unchecked) information from a reader based in Hong Kong, according to his own account, there is no business premises or office of a company with the name at the address givenREDROCK MEDIA SOLUTIONS LIMITED orTraffic Network Ads.
There is also an area called "Our Team", in which, however, you do not find out anything about the company or its executives. You only read there that there should be a technology team, a media team (the Traffic Ninjas at TNA), a marketing team and a support team.
Whois to trafficnetworkads.com
In order to find out a little more about the company and the website trafficnetworkads.com, we try to find out something about the registration of the domain and the domain owner via WHOIS. Unfortunately, that doesn't get us anywhere.
Registrant name: WHOISGUARD PROTECTED
Registrant Organization: WHOISGUARD, INC.
…
Admin Name: WHOISGUARD PROTECTED
Admin Organization: WHOISGUARD, INC.
Source: WHOIS for the domain trafficnetworkads.com
Basically, we didn't expect it to be otherwise. As we are used to from all other programs of this kind that we have evaluated in the past, the domain owner disguises his identity by having that of an anonymization service entered instead of his name. This is the standard practice of various cyber fraudsters, Ponzi scheme operators and pyramid schemes. We are not aware of a single reputable company that avoids acting as a domain owner itself.
Founder and CEO of Traffic Network Ads
The head behind TNA is a certain here and thereLeon Shug called, supposedly very successful on the Internet for a long time. Anyone looking for data or information on this Leon Shug will not have much success. It is quite conceivable and even probable that, as is often the case with similar programs, it is a matter of a pure, freely invented fantasy figure in order to be able to present a name at all.
The concept of Traffic Network Ads
Even if Traffic Network Ads seems quite dubious to us up to this point, we now want to devote ourselves to the concept and determine whether it can work at all.
Traffic Network Ads - The Most Important Data
1 traffic pack costs 50 euros and contains 250 clicks or 2,500 banner views.
For participation in the so-called Bonus program requires the purchase of at least one traffic pack, regardless of whether you have something to promote or not
Initially, you can buy up to 1,000 traffic packs, ie "invest" 50,000 euros.
You can expand your inventory to up to 2,000 of your own traffic packs by purchasing them, which corresponds to a value of 100,000 euros.
The duration of the traffic packs is 730 days, i.e. 2 years
You should receive a credit of 1.2 percent per day during this period.
Landing pages in German and English are available for advertising.
In order to increase the willingness to advertise, you receive commissions over 6 levels (10%, 5%, 3%, 3%, 3%, 3%).
What do you notice now? As with the RefShare advertising networks, which we have evaluated in the past, the concept of traffic network ads is completely unrealistic and cannot work out mathematically.
Traffic Network Ads - Advertising Prices
In the case of Traffic Network Ads, too, it is more than unlikely that a reputable, external company will book advertising purely for the sake of advertising. 50 euros for 250 clicks (i.e. website visitors) or 2,500 banner views are absolutely unrealistic and simply unreachable for this type of advertising. That would be 20 cents per click or visitor. However, only 0.01 to about 0.2 cents per click are realistic for this type of advertising. Nobody wants to pay 100 to 2,000 times as much.
Who buys the advertising packages (traffic packs) from Traffic Network Ads?
There is only one reason to buy the Traffic-Pack, namely the desire to receive the promised remuneration (called by TNA Cashback) of up to 438 euros (730 days x 1.2% of 50 € = 730 days x 0, 6 € = 438 €).
Even if we ignore the aspect of the extremely inflated, completely unrealistic advertising prices, everyone should notice that they are promised not only to receive the product in the form of advertising for a purchase price of 50 euros, but also in the course of 2 years Get back 9 times the purchase price. So supposedly you buy advertising for 50 euros plus 438 euros. All attention. So nothing against cashback. Cashback of 5%, possibly also of 10% of the purchase price ... wonderful. But a cashback of almost 900% on the purchase price? We can't imagine anyone believing this concept can work.
Conclusion on the nature of traffic network ads (TNA)
First of all ... Traffic Network Ads is not serious. it is even extremely dubious. Traffic network ads are a thoroughbred pyramid scheme, i.e. a dubious program or fraud. When Traffic Network Ads promises its customers / members to repay 9 times the purchase price for every purchase of its product, it is not without reason. This high repayment is intended to encourage as many people as possible to put as much money as possible into the systemTraffic Network Ads to deposit. That is the sole goal of traffic network ads. You collect as much money as possible. If the onslaught of the credit starts and more money has to be paid out than is deposited by new participants, the system collapses. Nothing is paid out and the operator or operators disappear with the accumulated money.
Traffic Network Ads tries, like all other systems of this type that we have evaluated so far, to delay the inevitable collapse and collapse of the system by persuading the old members not to have their credit paid out, but instead this credit into more "Invest" promotional packages. This is made palatable to the members with nice sample calculations and immense earnings prospects for the distant future.
No matter how you call this concept, whether it is a pyramid scheme, Ponzi scheme, pyramid scheme or simply as SCAM or fraud ... one thing is certain, namely that a large number of participants will lose their stakes.
Why are there so many positive reports about TNA on the internet?
In fact, like many other fraudulent programs of this type, Traffic Network Ads have received a multitude of positive reviews, reports, and articles on various websites. Why is that? Well, there are two sources for such reports.
Websites of so-called networks that earn a lot of money by promoting such systems, as they sometimes recruit hundreds of new, paying members and collect high commissions for them.
Participants in good faith who believe the promises made by the operators of traffic network ads, invest there and pass on the wrong promises
Dubious sales partners also operate websites and blogs
The networkers have the lion's share of the positive reporting for fraudulent systems. They run their own websites and blogs that they use for this purpose. Most of these networkers are well aware of the fact that they are luring people into a fraudulent system where these people have a high chance of losing their money. However, they believe, on the one hand, to collect the commissions of the SCAM operators and, on the other hand, to wash their hands in innocence after the collapse of the pyramid scheme.
Malicious tricks
Particularly perfidious: Many of these dishonest networkers write articles with headings in the style of "Traffic Network Ads Serious or Fraud?" In order to advertise, sometimes their headings even go so far that they look like a factual assertion. Example: "TrafficNetworkAds is a scam". In the course of their article, however, they state that they have examined the program in detail and can recommend it without reservation. Then why headlines like that?
On the one hand, such headings attract visitors who search for information on the relevant program in Google or other search engines. And whoever reads "Traffic Network Ads is fraud" in the search results will in all likelihood click on the relevant link ... and most likely be trapped after reading the article.
In addition, these networkers try in this way to make the comparatively few, objective and honest assessments of dubious programs the worst. Because these honest, enlightening articles are mostly drowned in the flood of fake articles written under similar headings for advertising purposes.
How to get lured into the snowball trap with fake reports about TNA
Max Mustermann, who has noticed some form of advertising for traffic network ads (spam email, recommendation in a forum, tip from a friend or work colleague), finds the opportunities and merits that are promised to be tempting. But before he registers with Traffic Network Ads and pays in between 50 and 50,000 euros, he would like to find out what the seriousness of the program in question looks like.
Feigned objectivity
To do this, he enters the following in the search engine of his choice, for example: "Traffic network ads fraud or serious". In the search results, in addition to the few objective, enlightening and warning articles, he also finds the many fake articles, which, after the headline, suggest that it is objective reporting, but which only have one goal, namely as many seekers as possible skim off, guide them to their website, convince them of the seriousness of traffic network ads and get them to invest as much as possible in traffic network ads. After all, they receive 10 percent of the amount invested as commission.
What does a professional networker earn by advertising traffic network ads?
The amount of commissions an avid helper and promoter of fraud receives depends on how many people he reaches and how skillfully he can lure these people into the traffic network ads pyramid scheme. Furthermore, the amount that the lured new members are willing to invest is crucial. If we assume, with a minimum stake of 50 euros and a maximum of 50,000 euros, that an average of 200 euros is invested in traffic packs per referrer, then that is a commission of 20 euros per person.
Blunt lying and a little skill
With a well-visited website, a cleverly written fake article, copious amounts of spam emails sent and a lot of social network spam, a networker can easily get a few hundred referred "partners" in the first level of his downline. 500 so-called partners times a commission of 20 euros mean earnings of 10,000 euros. Top networkers can still achieve significantly more advertised and far higher earnings. For many networkers incentive enough to support a scam like traffic network ads and lure ignorant people into the trap.
Is it legal to promote pyramid schemes like traffic network ads?
Structures like traffic network ads are pyramid schemes. As such, they are dubious and of course illegal. That is why the operators hide themselves in anonymity behind letterbox companies in countries where they are not within reach of German authorities or the authorities of other western constitutional states. It goes without saying that promoting such fraudulent, progressive systems is also illegal. That is why a large number of the networkers involved in the fraud hide themselves abroad, behind offshore companies and sometimes even with false or disguised identities.
Not everyone is hiding
However, there are also a large number of webmasters and bloggers who openly advertise such systems under their real names and using a de-domain. They often lack awareness of the consequences their actions can have. Or they feel safe because legal consequences can only be expected after the collapse of the respective system, but they then quickly remove their reports praising and promoting the pyramid scheme from their websites and blogs. Sometimes after the collapse of a pyramid scheme, editing is done and an advertising fake article is suddenly turned into a warning, enlightening article.
Which websites and blogs promote the dubious traffic network ads pyramid scheme?
At this point we would like to mention a few websites or blogs that are dedicated to advertising or fake reporting on traffic network ads. If you know other examples, you can send them to us using the contact form or mention them in a comment.
Uncritical article from geld-mit-dem-internet.de on Traffic Network Ads for the purpose of customer acquisition.
Website: geld-mit-dem-internet.de
Location of the article: geld-mit-dem-internet.de/traffic-network-ads.html
Heading: Traffic Network Ads - The new generation of the cashback program
Quote from the article: "... receive a CashBack for the advertising packages you have purchased (unit price 50 euros), which is credited 24 times a day, 7 days a week and amounts to up to 1.18% per day. As a customer, you will be rewarded for booking your advertising with TrafficNetworkAds. "
Design of advertising: Advertise directly. The positive attitude towards TNA can already be seen in the heading
Comment: Also promotes other pyramid schemes, such as GetMyAds
Referrer ID / sponsor (advertiser ID): 21935 / Jaguardo (trafficnetworkads.com/r/21935)
**********
The website adpack-vergleich.eu also praises Traffic Network Ads and states that it has had very positive experiences and emphasizes the great similarities to GetMyAds (also a fraudulent pyramid scheme that we reported on)
Website: adpack-vergleich.eu
Location of the article: adpack-vergleich.eu/trafficnetworkads-erlebnis/
Heading: Traffic Network Ads experiences - there from the beginning
Quote from the article: "Is Traffic Network Ads serious? Our first Traffic Network Ads experiences were mostly very positive. We promised you full transparency and you will get it here too. Anyone who is familiar with the revenue sharing scene (revenue sharing industry) will have noticed that TNA is very similar to GetMyads. "
Design of advertising: Advertise directly. The headline already suggests the positive, uncritical attitude towards Traffic Network Ads.
Comment: Also advertises other pyramid schemes such as GetMyAds and calls the articles "reviews"
Referrer ID / sponsor (advertiser ID): 19697 / IHH (trafficnetworkads.com/r/19697)
**********
Cashfreak (cashfreak.de) advertises Traffic Network Ads (TNA) without recalculating and finding that 900% cashback on the purchase price is impossible.
Website: cashfreak.de
Responsible for the website:
Location of the article: cashfreak.de/investmentprogramme/traffic-network-ads-tna/
Heading: Traffic Network Ads (TNA)
Quote from the article: "The makers of TNA have adopted the basic concept from GMA and have expanded it to make sense. The affiliate program was expanded to 6 levels. However, a minimum number of your own TrafficPacks must be available from the 4th level, otherwise this level will not be activated, which I personally think is very good, because it ensures that there is investment in the program and that the program is successful in the long term can be."
Design of advertising: Advertise directly. The article is completely uncritical and apparently deliberately ignores everything that points to SCAM and fraud.
Comment: Promotes many other pyramid schemes, including highly illegal HYIP financial pyramids and Ponzi schemes "
Referrer ID / sponsor (advertiser ID): 25445 / mrrude (trafficnetworkads.com/de/?r=25445)
**********
The page whoisdenniskoray.com asks the question, "Serious or rip-off?"
Website: whoisdenniskoray.com
Responsible for the website: Dennis Koray
Location of the article: whoisdenniskoray.com/trafficnetworkads-erfahrungen-ist-tna-eine-seriose-trafficplattform-oder-abzocke/
Heading: TrafficNetworkAds review - is TNA a serious traffic platform or rip-off?
Quote from the article: "The impression of TrafficNetworkAds is very professional, there are top graphics and videos and you have a good overview of your business in the back office"
Design of advertising: With the question, "Is TNA a serious traffic platform or a rip-off?", In the headline uses the interest of searchers in real information to lure them to your site.
Comment: There are also critical contributions to pyramid schemes, such as MyAdvertisinmgPays: whoisdenniskoray.com/maps-erfahrungen-my-advertising-pays-lohnt-sich-nicht-oder-doch/
Referrer ID / sponsor (advertiser ID): 19098 / mystorymarketing (trafficnetworkads24.com/de/?r=19098)
Loading ...