What untraditional breakfast do you eat
Christmas dishes in Norway
In Norway, Christmas is not only a popular celebration, it is also a good feast. Whether at home or in the restaurants: Lots of them classic Norwegian dishes are especially served at this time of year.
There are certain things that go into the Christmas spirit Spices, fragrances and flavors. However, culinary traditions vary from north to south and east to west. Here you will get to know typical (and delicious!) Dishes.
Pig, jealous hammers!
The most anticipated meal of the year? For many Norwegians, this is undoubtedly dinner on Christmas Eve.
Two traditional dishes compete for the Title for the most popular Christmas dinner - "Ribbe" (pork ribs) and "Pinnekjøtt" (lamb or mutton rib). While Ribbe has been in the lead for years, Pinnekjøtt is becoming increasingly popular. Many Norwegians avoid being spoiled for choice and simply eat both dishes at Christmas time - so the duel between pork and mutton ends in a delicious draw.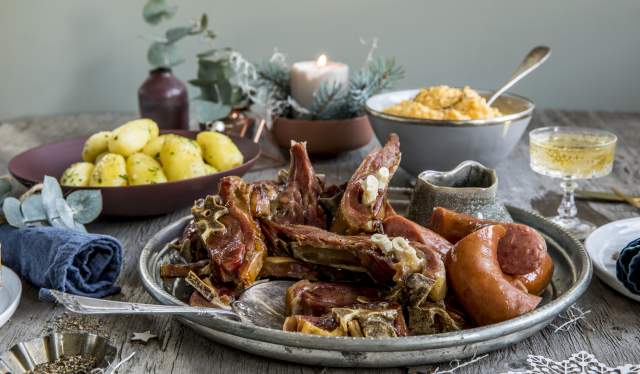 Pinnekjøtt.
Photo: MatPrat
The Pork ribs are primarily characterized by their rind that requires a lot of time and attention, but then gets really crispy. In addition, meatballs, sausages, sauerkraut and other side dishes are usually served.
Pinnekjøtt (literally "stick meat") is a salted and dried mutton rib that traditionally cooked over birch branches becomes. Meat also plays the main role in this dish. Prominent supporting actors include potatoes, root vegetable puree and soup.
Long coast, even longer tradition: fish as a Christmas dish
Given Norway's ancient fishing tradition, it is not surprising that the treasures of the sea are also on your plate at Christmas.
Was in the south cooked cod Always a welcome guest on Christmas Eve, preferably with Sandefjord butter sauce, carrots and potatoes. Although the pork ribs mentioned above are usually the star of the evening, fish is still eaten between Christmas Eve and New Year's Eve.
The oldest Norwegian Christmas tradition dates back to the 15th century: lutefisk is made from stockfish that has been treated with lye ("lut"). Every December, Norwegians consume over 750 tons of this special delicacy. The dish is also popular in Minnesota and Wisconsin, USA, where many descendants of Norwegian immigrants live.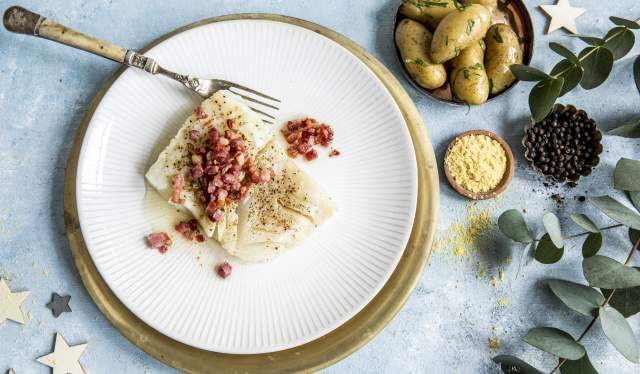 Lutefisk.
Photo: Matprat.no
Like Lutefisk, "Rakfisk" has - let's say - a bit of idiosyncratic taste. But the fermented freshwater fish has many fans and is often served in thin potato rolls with sour cream and onions. In the city of Bergen, however, the crowd favorite is "Persetorsk", sweetened, salted and pressed cod.
Rice pudding with whipped cream is the classic dessert for Christmas. In the north, cloudberry cream has a large fan base. Clementines, nuts, herring and pickled pork with mustard are also part of the Norwegian culinary tradition at this time of the year.
Strong, spicy, traditional: Christmas drinks
In Norway, people like to drink beer and aquavit with such hearty, traditional dishes.
Christmas beer is dark, full of flavor and has a high alcohol content. In the past, brewing your own beer was a legal requirement for both poor and wealthy citizens. Drinking the beer together was considered a sacred act.
A companion to the heavy beer is the aquavit matured in oak barrels: this one spicy Nordic potato schnapps is a welcome balance to the fatty and filling Christmas dishes.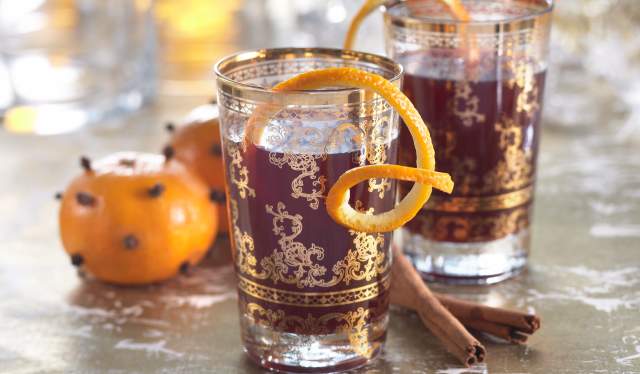 Gløgg.
Photo: Matprat / Mari Svenningsen
The Norwegians also have their own mulled wine. "Gløgg" is made from hot red wine, and aquavit is often added to it. There are also sugar and spices such as cinnamon, cardamom, ginger, cloves and bitter orange. The drink is served with almonds and raisins. For children there is an alcohol-free version made from fruit juice.
The hungry leprechaun in the barn
Chubby, generous and friendly Santa Claus has become a central part of the modern Norwegian Christmas party. "Fjøslösungen" (the barn goblin), however, is a mischievous and somewhat scary character from a time when Norway was still an agricultural community.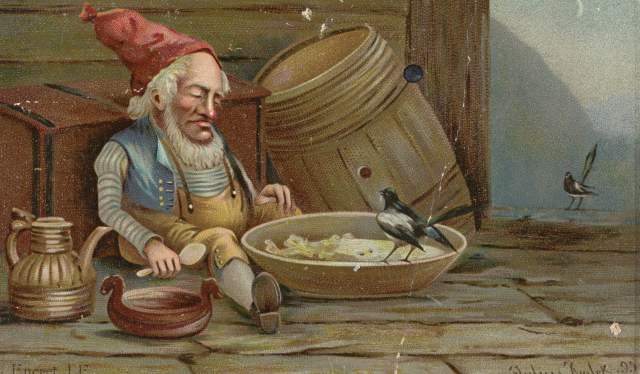 Fjøsnisse.
Photo: Julius Holck / National Library of Norway
Back then you were well advised to be friends with this small, bearded man. If he was in a good mood, he should contribute to the success of the farm. If he was dissatisfied with the way things were going, however, he could take the most brutal forms of revenge, such as slaughtering the dairy cattle.
That is why farmers brought Christmas every year Congee and home-brewed beer in the barn - a tradition that continues on Norwegian farms to this day.
Christmas markets in Norway
These are 2020 data. Updated 2021 data will follow as soon as they are confirmed.
November 14–3. January
(Closed December 24th)
Winter wonderland Spikersuppa, Oslo
October 31-23 December
Christmas market in Hadeland Glassverk
3rd-6th December
Christmas market in Røros
November 29–20. December
Christmas market in the Norwegian Open Air Museum, Oslo
4-20 December
Christmas market in Trondheim
October 30–20. December
Christmas time in Henningsvær, Lofoten
November 28-22 December
Christmas at Bærums Verk
November 28–24. December
Christmas market in Kristiansand