A Frenchman from Berlin on the EM: "We French want to scream"
France and Romania face each other at the opening of the European Championship: Guest author Sébastien Vannier on the Berlin football fans.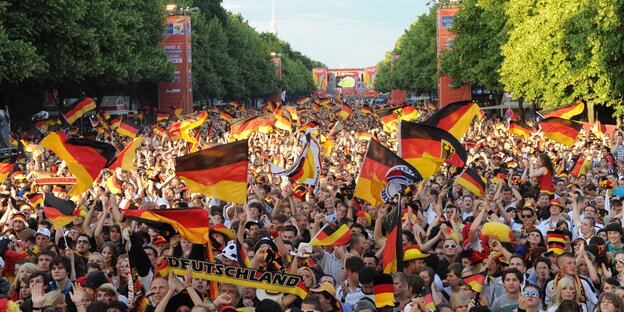 So many Berlin fans ... Photo: dpa
World Cup 2006. Zidane's headbutt: The first of my memories as a French football fan in Germany. At that time I also got to know the German fan culture. Black, red and gold were everywhere. On the flags in the windows, on the side mirrors of the passing cars.
And you Germans describe us French as patriotic! Our soccer pride has been fairly limited recently, because our own team had simply shot itself out in previous soccer tournaments (World Cup 2002 and EM 2004). After all, in 2006 we reached the World Cup final in Berlin's Olympic Stadium.
At that time I met a large group of French people in a Berlin bar. The German team had been defeated by Italy in the semi-finals shortly before and you Germans had shown your solidarity with us. "Ah, les Francais! You have to avenge us and win against Italy, "said the German fans in the bar.
Since this world championship, the German flags have been coming back en masse every second summer in my Weddinger Kiez, so now again. However, I not only had to get used to the German flags, but also to the many firecrackers that are set off during the games to celebrate the goals. I don't know this great tradition from home, neither from New Year's Eve nor from football.
Two years ago, France lost to Germany in the World Cup quarter-finals. As a Frenchman from Berlin, it was time, as has so often been the case in recent years, to acknowledge the defeat and to support the adopted country. Which is why I watched the Brazil-Germany semi-finals with a French friend at home.
With one eye on the screen, we had the window open to see what the neighborhood was doing. In my Weddinger Hof every game of the German national team can actually be followed practically without a television. A loud "Jaaa", framed by a few bangs, means goal for Germany. A long gargled "Rhaaaa" stands for a shot in the post and, phonetically much more difficult, an isolated and proudly called "Ahahaha" for each goal of the opposing team.
During the game between Brazil and Germany in 2014, there were 10-minute orgy-like screams in the courtyard - yeah, yeah, bang, bang, yaaa, yaaaa. The neighbors went out of firecrackers for the second half.
"During the game between Brazil and Germany, there were 10-minute orgy-like screams. The neighbors ran out of firecrackers "
At every tournament that I have seen here in Berlin, it is completely natural for my German friends to think that the German national team will win the title. Any other result would be a major disappointment.
The confidence in our own abilities is not so well developed here in France. Even this year, when we have a home advantage and talented offensive players and a lot of people are betting on France as European champions, our goal is the "semi-finals".
But: Perhaps you Germans have made me more patriotic in recent years. Because in the meantime I secretly dream for Les Bleus and of a "miracle of Paris" that could lift the dreary mood in my home country a bit.
I won't buy firecrackers for this EM anyway. I hope that my neighbors in Weddingen will often hear me screaming - in French, of course.