How does the billing software work
Billing software - what is billing software?
Invoicing software is a program with which you can write, send and manage invoices.
Are you an entrepreneur and want to write an invoice? Find out here how invoicing software can help you!
Invoicing software enables entrepreneurs to quickly and easily write, send and manage invoices online. Usually a free cash book is integrated in the software. In terms of its functions, an invoice software is identical to an invoice program.
Billing software functions
The following functions are available to companies with invoicing software:
Write invoices with invoice template
The most important function in an invoicing program is invoicing, i.e. the writing of invoices.
Invoicing software has a legally compliant invoice template that contains all the important mandatory information for an invoice:
Invoice date, invoice number and service date
All three details are mandatory details on an invoice. Consecutive numbering of the invoices is particularly important. In addition, each invoice number may only be assigned once.
In order to avoid incorrect numbering and incorrect dates, these fields are automatically filled in by an invoice software (auto-fill-in function).
Information about the biller
The name, address and tax number of the biller are also mandatory information on an invoice. Invoicing software automatically adopts this information from the invoice software settings - this saves entrepreneurs manual effort.
Details of the invoice recipient
A customer database can be created in an invoice software so that the customer's name and address can be accessed quickly when invoicing.
If an entrepreneur sends an invoice to a customer, he does not have to enter the data manually, but can add the customer to the invoice from the customer database using the drop-down menu.
Information about the goods / services
Entering product data or performance data works just like entering customer data: the entrepreneur simply selects a product from his product database using the drop-down menu and adds it to the invoice.
Invoice amount
The invoice amount of an invoice is also an important mandatory requirement. It is not enough to state the gross amount. The net amount, gross amount, sales tax rate and sales tax amount must be specified. Invoicing software calculates this data automatically so that no manual calculation is necessary.
Note: You can find more about the most important mandatory information on an invoice here: What must be on an invoice?
Invoice software: professional invoice designer
Invoicing software not only has a professional invoice template. Invoices can also be customized with the help of an invoice designer.
The invoice designs available in an invoice software include:
Classic: Classic invoice design
Simple: Reduced, minimalist invoice design
Elegant: curved invoice design
Full screen: Invoice design with a wide header image
Blocks: Invoice design with block diagram in the header
In addition, these invoice designs can be further customized. Adaptable are:
logo
font
Font color
Background color
Additional invoice fields: signature, customer number, etc.
In summary: With the invoice designer in an invoice software, companies can design their invoices professionally and individually at the click of a mouse.
Send invoices with an invoice software
After the invoice has been written and designed, the invoice must be sent. Billing software offers the dispatch-by-mouse-click function for this purpose. By clicking on the "Send now" button, the finished invoice can be sent quickly and easily online from the program. This also saves entrepreneurs printing and postage costs.
Alternatively, each invoice can also be printed out and sent in the traditional way by post.
Billing software with banking function
After the invoice has been sent, the incoming payment should be checked regularly. Invoicing software saves entrepreneurs manual effort:
Bank account and billing software can be linked directly to one another. The invoicing program automatically records every incoming payment on the account - and automatically links the invoice and payment. In the invoice overview, the invoices paid are then marked in green - so companies can see at a glance which invoice has already been paid.
Invoice management: organize invoices correctly
Automatic invoice management is also central to invoicing software. This does not only affect the banking function already mentioned.
In order to give entrepreneurs an automatic overview of their invoices, every invoice software has an invoice overview.
The invoice overview shows the status of each invoice: If an invoice has not been paid within the payment deadline, for example, it appears on a red background. You can see at a glance which invoice is overdue. The invoice can now be converted into a reminder with a click of the mouse and this can be sent.
Advantages and disadvantages of billing software
What are the advantages and disadvantages of billing software? These two criteria are discussed in more detail below:
Benefits of billing software
The advantages of billing software have already been mentioned in the previous chapter. In summary, the following advantages can be identified:
100% legally compliant invoice template with auto-fill-in function
Professional invoice design with individual design
Invoices can be sent directly from within the program at the click of a mouse
Automatic payment reconciliation of invoices (banking)
Simple and fast invoice management with current invoice status
Many other practical functions, such as writing an offer, sending delivery notes, etc.
Companies that write their invoices with invoice software save themselves a lot of manual invoicing work.
Disadvantages of billing software
In addition to many advantages, billing software also has some disadvantages. The disadvantages include:
Choosing the right billing software
A good invoicing program isn't free
In order to find the right invoicing software for you, entrepreneurs should take the time and test various invoicing programs. The costs are also manageable - good billing software can be subscribed to for as little as € 4 per month.
Invoicing software for founders & small business owners
Not all invoice software is created equal. Each invoicing program is aimed at a specific customer group or specific company. There is billing software for founders & small business owners, for medium-sized companies and for large corporations.
Invoicing software for founders and small businesses is characterized by the following criteria:
Simple and intuitive operation
Automations
Opting for small business regulation (invoice without sales tax)
Summary reports, especially EÜR
Mobile billing software for iOS and Android
Entrepreneurs need to be mobile these days. Photographers, consultants and craftsmen, for example, spend little time in the office, but are often on the move and carry out their jobs directly at the customer's. Good billing software should therefore also be available via a mobile app on the cell phone.
In this way, entrepreneurs can also create an invoice directly for the customer and have it paid - for example in cash or by credit card. In this way, entrepreneurs remain flexible and can make optimal use of their billing software on the go.
Debitoor invoicing software: send invoices in just 1 minute
Finding good accounting software is not easy. It is particularly difficult for founders and small business owners to find the right accounting program - many programs are complex and difficult to understand without knowledge of business administration.
The Debitoor invoicing software has specialized in the requirements of founders and small businesses. With Debitoor, founders have a simple and intuitive invoice program with many practical automations at their disposal.
Invoices can be written and sent in less than 1 minute. And, of course, mobile too: With the Debitoor iOS and Android apps, entrepreneurs can also write an invoice on the move - and have it paid directly on site by integration partners such as the SumUp card reader.
In 10 steps to the tax return - ELSTER Guide & Newsletter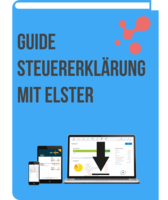 By registering for the ELSTER Guide and Debitoor Newsletter, you agree to occasionally receive information about other products in connection with Debitoor. Get the free ELSTER Guide for your tax return now!