Brits are welcome in Spain
Spain and Brexit
The British people voted in a referendum in 2016 for Great Britain to leave the EU, the so-called Brexit. On December 24, 2020, the British government and the EU Commission agreed at the last minute on a Brexit deal that regulates future relations between the EU and the UK. We give you an overview of the current developments.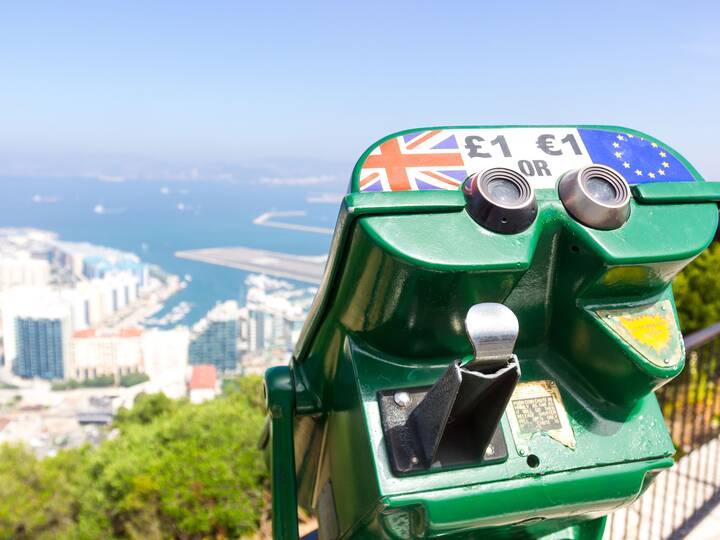 Gibraltar's future is currently uncertain (Andrew V Marcus / Shutterstock.com)
The consequences of Brexit for Spain
There will be an EU external border between Gibraltar and Spain, but Gibraltar should remain a member of the Schengen area.
The at least 310,000 British »expats«, some of whom have lived in Spain for decades, have been non-EU foreigners since January 1, 2021.
According to a study by the Spanish "Brexit Commission", Brexit will reduce Spain's gross national product by 2 to 4 billion euros. In January and February 2021, imports from Great Britain to Spain fell by 49%. They mainly concern fish products and spirits. Spanish exports to the UK fell by 15%. This applies particularly to fruit, vegetables, wine, olive oil and pork. In contrast, exports to the EU fell by only 5.1%.
The Spanish contribution to the EU budget will increase while some Spanish regions lose their EU subsidies.
Spanish companies with large business shares in Great Britain such as Banco Santander or Telefónica will particularly suffer from a weak pound. Spain has to give up 25% of its previous fishing rights in the British seas.
The British are a major contributor to Spanish tourism and property revenues. A decline in the number of British tourists and residents in Spain must be expected, because Brexit will remove important privileges for them.
British tourists and residents in Spain after the Brexit deal
The Brexit deal of December 24, 2020 shows more and more of its pitfalls for Britons living in other EU countries. Although the new treaty has saved many of the EU's achievements for the UK, UK tourists who want to travel to Spain, have a vacation home there or earn a living in Spain are among the losers.
381,000 British are registered as residents in Spain. This makes them the third largest contingent of foreigners after Romanians (1,080,000) and Moroccans (812,000). The median age of UK residents is 56 as many of them are retired.
Since January 2021, British citizens need a visa within a 180-day period if they stay in Spain for more than 90 days. British residents who were unable to present a Spanish TIE (Tarjeta de identidad de extranjero) by March 30, 2021, actually had to have left Spain on that day and may enter again after 90 days at the earliest. In December 2020, 20,000 Brits had applied for the TIE, but this does not mean that it was already issued on March 30th in all cases. Some British people without valid Spanish papers have no place to stay in Spain other than their property. If they were expelled to Great Britain, they would be on the street there. At least you would have to apply for a visa at your Spanish immigration office if you want to stay in Spain longer than March 30th.
At the airports, the British are controlled more closely and for longer, much like the Russians are already doing now.
There is no agreement between the EU and the UK on a pet passport. Therefore, every animal that is brought to Spain needs a health certificate from a British veterinarian, which must not be older than 10 days and is only valid for a maximum of 4 months. The certificate entitles the animal to enter and leave the country once and to travel within the entire EU.
The EU-wide ban on roaming charges for mobile phones no longer applies to the British. You must therefore expect higher mobile phone charges when entering the EU with a UK mobile phone contract.
The ERASMUS program no longer applies to British students. As part of Erasmus, only EU students can complete parts of their studies in other EU countries and have the examinations taken count towards their studies.
British professional qualifications are no longer automatically recognized. The right to work in Spain is restricted for the British from January.
It is still unclear whether British expats in Spain can continue to receive British pensions there and be insured under British health insurance.
Brits who do not have their normal place of residence in the EU are allowed to claim back the Spanish VAT before leaving the UK if they have purchased items in Spain with a value of at least 90.15 euros that they have purchased within 3 months of the purchase in Great Britain want to perform. To do this, you have to fill out the Spanish tax refund form DER. However, the British have to declare goods bought in Spain with a value of 390 British pounds or more when entering Great Britain. The exemption limit is 270 pounds when entering the country by private plane or yacht. A maximum of 200 cigarettes and 18 liters of wine, 9 liters of sherry or sparkling wine or 4 liters of alcoholic beverages with more than 22% alcohol can be imported into Great Britain duty-free.
Brits who want to send a private package from the UK to their Spanish vacation home or to friends and relatives in Spain can expect three times the transport fees. The British housewife Patricia McKinley sent a package with used clothes and underwear to her holiday home in Spain in early 2021. Before Brexit, that would have cost 45 euros. DHL Spain charged her an additional 40 euros for increased bureaucracy and 39 euros for 21% VAT on her used textiles. In addition, she had to enclose a detailed list of the textiles in the package and their original purchase prices.
A woman from London wanted to send her daughter in Madrid a small birthday present the size of a shoebox. In order for it to arrive on time, she had paid the British Post 45 pounds for the transport as "privileged mail". But after several weeks the parcel came back as undeliverable because no recipient was found in Madrid who would pay a customs duty (importes a cobrar) of 40.77 euros. The mother had to pay another 30 pounds to release the parcel in London and 45 pounds to send it again. Since Brexit, you need a British CN22 or CN23 form to send a private parcel to the EU.
Nadine Walker has been running a small shop with British knick-knacks in a hip area of ​​Madrid for 13 years. Since Brexit, deliveries from Great Britain have only arrived with a long delay or not at all. Valentine's Day cards that she ordered on January 1st didn't arrive until February 14th. So it was a total loss for her. Nevertheless, she had to pay customs duties in advance for the expected goods. It is also difficult to get receipts from the transport companies to file with the Spanish tax return.
If you move from Great Britain with your belongings to Spain, you are exempt from the above costs, but must show a Spanish NIE number (Número de Identidad de Extranjero) and proof that the house was sold in Great Britain, along with a letter of approval from the Spanish consulate in Great Britain.
Private individuals from third countries such as Great Britain are not allowed to send food to Spain at all; this is only allowed to commercial grocers. The import of private cars is much more difficult.
Conversely, many of the difficulties mentioned also apply to Spanish tourists, workers and students in Great Britain.
Since details of the Brexit agreement are still changing all the time, the British affected in Spain should follow the current status on the website of the British government.
This advice did not prevent British residents who had flown from London Heathrow to Barcelona on a British Airways plane from being sent back to London by the Spanish police. Only four of them were allowed to enter Spain: three who had the new TIE identity card (Tarjeta de identidad de Extranjero) with them for residents from non-EU countries and one who was also able to prove Portuguese citizenship (i.e. EU membership) .
The police complained that the other passengers only had their green "Certificado de Registro de la Unión Europea", which is linked to the Spanish NIE, with them. The British complained that the NIE had also been agreed as valid as an entry document alongside the TIE between the British Embassy and the Spanish Foreign Office. The police at El Prats Airport initially even claimed that only holders of Spanish passports were allowed to enter the country. Although the UK-Spain agreement is still in place, the incident prompted British Airways to turn away British passengers already at Heathrow if they do not have a TIE. For some Brits, that means they won't be able to return to their primary home.
On April 5, 2021, 40 British people were turned away at Alicante Airport and had to return to Manchester immediately with their Ryanair plane because they could not show a TIE. This also affected people who wanted to enter the country to apply for the TIE. Due to the state of emergency caused by the corona pandemic until May 9, 2021, appearing before a Spanish authority is not an important reason for third-country nationals to be allowed to enter Spain.
If the British wanted to buy original British specialties in Spain, such as the classic Quality Street tins or Cadbury chocolate, they had to go to the Morrissons in Gibraltar. A large Tesco supermarket has now opened in Mijas-Costa. But these "foreign" specialties are now likely to have become more expensive.
A British couple who live in Spain but who voted for Britain to leave the EU in 2016 made themselves a mockery on social media when they complained that they had been watching their favorite TV show "Only Fools and Horses" since then 1 January 2021 can no longer receive. Because the broadcasts of the British broadcaster Sky can no longer be streamed outside of Great Britain since Brexit came into force.
"Golden Visa" as a last resort
In 2013 Spain regulated in the "Ley de emprendedores" that foreigners from third countries can settle in Spain if they qualify for a "Golden Visa". Such a visa has been issued 35,400 times since then. The holder of a golden visa can enter and leave Spain as often as he likes, stay in any Schengen state for 90 days, have his family come to Spain and take up employment or run a company in Spain.
These are the conditions for a golden visa:
A monthly income of at least 2,200 euros and your own health insurance. This particularly affects retirees.
People who want to start their own company and who have the necessary funds and a business plan that can be expected to lead to good business success.
Employees who are experts in a field where there is a shortage in Spain.
Real estate investors who (also retroactively until 2013) acquire or have acquired a property in Spain that costs at least 500,000 euros. If the price is higher, at least 500,000 euros must come from your own resources, the rest can be financed through mortgages.
Further consequences for Great Britain
Spain is the largest supplier of fresh fruit and vegetables to the UK. These goods are now becoming more expensive for the British. In addition, due to the more complex handling modalities, there is a risk of mass jams in trucks, as we were allowed to inspect shortly before Christmas 2020 in Dover on the occasion of the corona-related closure of the French border. One trucker put it in a nutshell: he would make sure that his papers were in order. But that wouldn't do him any good if the truck in front of him didn't have proper papers. Then he had to stay in a traffic jam until the truck in front of him was cleared.
The Brexit deal with the EU does not contain any regulations for financial services. British financial institutions that do not have a registered office in Spain will then no longer be allowed to offer their financial products there.
Real estate agents like Richard Spiegel from the real estate company Kyero are already noticing a clear reluctance to buy residential property in Spain, especially among older British people. Spiegel says: "European buyers are very active in snatching the good buying opportunities from the nervous British."
Now an old law from 1975 from the Franco era is getting in the way of potential British property buyers in Spain. This law stipulates that non-EU foreigners must obtain written permission from the Spanish Ministry of Defense if they want to buy or build real estate near a military facility. That can take six months. It is estimated that 800 UK property buyers will be affected by the 45 year old law each year. In Andalusia, for example, the largely British city of Sotogrande is located on the Costa del Sol, only 2 km away from the Compamiento Militar La Almoraima. The bathing town of Mazagón on the Costa de la Luz also borders directly on the Base Militar El Picacho.
Brits as third country nationals have to pay a 25% higher non-resident tax (Modelo 210) for their Spanish holiday property than EU citizens. While EU citizens pay 19% tax on renting their property and can deduct their costs from it, UK landlords have to pay 24% and cannot deduct any costs.
The British and Spaniards are still negotiating whether Brits who want or have to exchange their British driver's license for a Spanish driver's license after June 30, 2021, have to take another driving test in Spain beforehand.
Since the vote in Great Britain in favor of Brexit ended, the pensions of British pensioners in Spain have already fallen significantly because the British pound has collapsed.
At the beginning of March 2017, the Scottish European Commissioner Stephen Gethins traveled to Madrid to sound out whether Spain would recognize Scottish EU membership in the event of Brexit. He immediately promised not to support the Catalan struggle for independence. Nevertheless, he only found interlocutors at Podemos and PSOE, while Rajoy's PP was not prepared to meet at all. When the Scottish Prime Minister Nicola Sturgeon confirmed in mid-March that he would seek another referendum on Scottish independence, the then Spanish Foreign Minister Alfonso Dastis hastened to emphasize that in this case Scotland would be in the queue of countries wishing to join the EU, have to go in the back.
After all, there is now a ray of hope for the British who live in the EU. Prime Minister Johnson's administration appears to be considering lifting the ban on Britons who have lived abroad for more than 15 years from voting and voting in the UK. This would affect 5 million British people around the world. With the change in law, Great Britain would finally comply with Article 21 of the United Nations Universal Convention on Human Rights, which states that everyone has the right to participate in the public affairs of their country, directly or through freely chosen representatives. For 23 years, all legislative initiatives in the UK have failed.
At the 2017 EU summit in Brussels, British reporter Nick Eardley wanted to interview Prime Minister Rajoy about Scotland's aspirations for independence. Rajoy reprimanded the reporter to ask in Spanish.
In a representative survey at the beginning of 2018, the British respondents were asked to decide which part of the country they would most likely do without if it had to be in order to make Brexit a reality. The choices were: Scotland, Northern Ireland and Gibraltar. Surprisingly, most of the respondents would definitely not do without Gibraltar, but if necessary Scotland would! What led scoffers to believe that if the Falkland Islands had been included in the selection, then the respondents would have been the least willing to forego this group of islands in the South Atlantic.
How is the Spanish government reacting?
Even if the Spanish government would have liked to have agreed special relations between Spain and Great Britain, it knows very well that it must comply with the conditions that the EU has negotiated with Great Britain for the period after Brexit. As the largest net recipient of EU payments, Spain cannot afford to take a special route.
A group of British expats in Spain has therefore started an initiative to allow British expats to acquire Spanish citizenship in addition. Spain could decide that alone.With Rajoy it was clear that he would only go along with something like this if Spain got a foot in the door in Gibraltar in return. It remains to be seen whether the current Prime Minister and leader of the socialist PSOE party, Pedro Sánchez, sees more leeway here.
The willingness to accommodate Great Britain has been rather restrained in the EU since it became known that Great Britain did not do anything between 2013 and 2016 against Chinese traders who pressed large quantities of uncleared textiles into the European market via the UK. The other EU member states, including Spain, are said to have escaped tariffs totaling 3.2 billion euros.
The EU anti-fraud department OLAF has asked the British customs authority HMRC to reimburse the EU for the damage. In addition, the EU is demanding a further 60 billion euros for the long-term costs of Brexit, including pensions for British EU officials, costs of joint projects and commitments made to secure loans.
The special role of Gibraltar
In the 2016 Brexit vote, 96% of those entitled to vote in Gibraltar were in favor of keeping the Monkey Rock in the EU. The Spanish government had offered Gibraltar a "common sovereignty" over Gibraltar, which the British Prime Minister Cameron brusquely rejected with the dispatch of the British nuclear submarine "HMS Ambush" to the port of Gibraltar.
Gibraltar's Chief Minister Fabian Picardo was relieved at Christmas 2020 that the EU and Great Britain had agreed on a Brexit deal on Christmas Eve. However, Gibraltar did not want to take over this, but instead wanted to negotiate a deal separately with the EU that would ensure Gibraltar's continued membership in the Schengen Agreement and - if necessary - in the EU internal market. Because Gibraltar depends on smooth border traffic with Spain.
Ironically, Gibraltar's solo effort boils down to a proposal that I put up for discussion in the Gibraltar newspaper "The Olive Press" a year after the Brexit vote. Great Britain could then have saved itself the three-year hiccups through a follow-up contract with the EU and would have remained a member of the EU internal market via Gibraltar. Admittedly, this would also have meant membership of the Schengen Treaty for Great Britain, but the few aircraft that operate between Gibraltar and the UK would not have been able to bring large numbers of foreigners to Great Britain who are not wanted in the UK.
At the last minute, Spain's Prime Minister Pedro Sánchez and Gibraltar's Chief Minister Fabian Picardo agreed that Gibraltar would remain in the Schengen Treaty. This was immediately agreed between the UK and the EU, so that possible conservative Spanish governments will find it difficult to reverse it later.
The contract stipulates that the air and sea border of Gibraltar will become an external border of the EU and will be protected by Frontex for 4 years, while access to Gibraltar will be monitored by the "Gibraltar Borders and Coastguard Agency". Fabio Picardo hastened to emphasize that it was only Gibraltar's decision who was allowed to enter Gibraltar after Spain's Foreign Minister Arancha Gonzales Laya claimed in an interview with the Gibraltar Chronicle that Spain had the last word. For the time being there is full freedom of movement for goods and services from Gibraltar to Spain and vice versa. Ironically, the British are now treated like third-country nationals when visiting Gibraltar.
The contract details, in particular with regard to the environment, health, waste management, road transport, data exchange, social security, civil rights and competitive conditions will be negotiated by the EU and UK within the next twelve months and will initially apply for five years. Until then, Gibraltar and Spain should clarify their relationship in a permanent contract. It's also about little things whether Spaniards are allowed to join the Frontex border troops. The Gibraltar Chamber of Commerce puts Gibraltar's contribution to Spanish economic output at 500 million euros annually. Gibraltar's Chief Minister Picardo emphasized that the deal on Gibraltar between the EU and UK could also fail and that there would then be a hard Brexit for Gibraltar.
Spain's right-wing nationalists are of course against an extra sausage for Gibraltar, which in fact gives the inhabitants of Gibraltar the right to move freely throughout the EU. However, the Andalusian branch of the VOX party is in favor of the deal because of the jobs. And hundreds of thousands of British expats are likely to be amazed that Gibraltarians should get more rights in Spain than they themselves.
There was a lot of excitement in the UK in 2019. As early as 2018, when the UK was still a member of the EU, the Royal Navy had tendered three new escort ships for the British Navy worldwide. Although new warships may only be tendered nationally in the UK, supply ships are not included. Navantia shipyard in northern Spain almost won the bid for a billion euros. This had thrown the Scottish Babcock shipyard out of the running. The Scottish unions then accused the British government of sacrificing Scottish jobs in exchange for a deal with Spain over Gibraltar. At the end of 2020, the Babcock Wert for 1.5 billion British pounds was awarded the contract, with a consortium around the Navantia shipyard to supply components.
By Wolfgang Zöllner