Which countries do not require SAT
Everything about satellite reception
Received German television and radio abroad
Anyone who is a German abroad wants to stay informed about life in Germany. This applies to vacationers - and especially to people who live and work abroad. This naturally raises the question of whether and how one can receive German television (or at least radio) in the country of residence.
If you think of the classic, linear broadcasting via antenna, satellite and cable, the truism still applies: The reception of German television becomes more complicated the further you are geographically away from Germany. In east or west direction, the different time zones quickly become a problem: You don't want to have to watch an evening program from Germany in the middle of the night.
Today, however, the Internet is also playing an increasing role in the distribution of television and radio programs. The geographical distance from Germany then becomes a minor matter. If you get sufficiently fast internet access at your place of residence, internet offers are an interesting alternative (although not without problems and restrictions in detail).
This page wants to list which options are available in detail (and what you have to pay attention to in individual cases). Every interested German abroad or holidaymaker will have to find his own way - depending on where he is staying and the infrastructure there.

And from here now the detailed information. References to outdated or missing information are always welcome.
.
Satellite, antenna and cable reception
Cable television in neighboring countries
The cable companies in some of Germany's neighboring countries also feed a few regular German channels into their offerings (especially in Austria and Switzerland, but also in some of the other neighboring countries). Anyone who lives in such a region and gets by with a basic range of channels may already be adequately served. The advantage is that you can simply continue to use an existing cable connection on site without modifications and do not have to worry about installing a receiving system.
In certain countries, German programs are only available for an additional fee, i.e. in the form of pay TV. Then you have to look carefully and weigh the monthly costs against other options (satellite reception or Internet).
Since there are several cable providers in most countries and the offer can also differ regionally, a complete overview at this point would be too time-consuming. However, it should not be a problem to find out about the offer on site (e.g. from the neighbors there). Once you know the name of the responsible cable company, you can usually find enough information on the offer on the Internet.
DVB-T2 in neighboring countries
If you are lucky, you can still receive one of the German DVB-T2 transmitters in the border region to Germany via indoor or outdoor antennas. There are unencrypted public broadcasters here. In some regions, private channels are also available for a fee (this then requires registration from Germany - if necessary through relatives or friends, if you no longer have a place of residence in Germany yourself).
DVB-T2 is sometimes an alternative for apartments where the installation of a satellite dish is not allowed. However, it really only works near the German borders - and only there if the next transmitter location is reasonably cheap.
There are no binding maps showing possible DVB-T2 reception near the German borders. You just have to try it out.
Astra satellites
The bottom line is that Astra's digital satellite reception (19.2 ° East) is the best option for cross-border reception where it is technically and legally possible - if only because of the large selection of channels. In addition to the common German television channels, all public radio stations and a large number of private radio stations can be received via Astra.
The Astra satellites cover most of Europe and the Canary Islands. With the help of so-called footprints (optical representations of the footprint) one can estimate where the satellites can be received with what strength (and thus what dish size).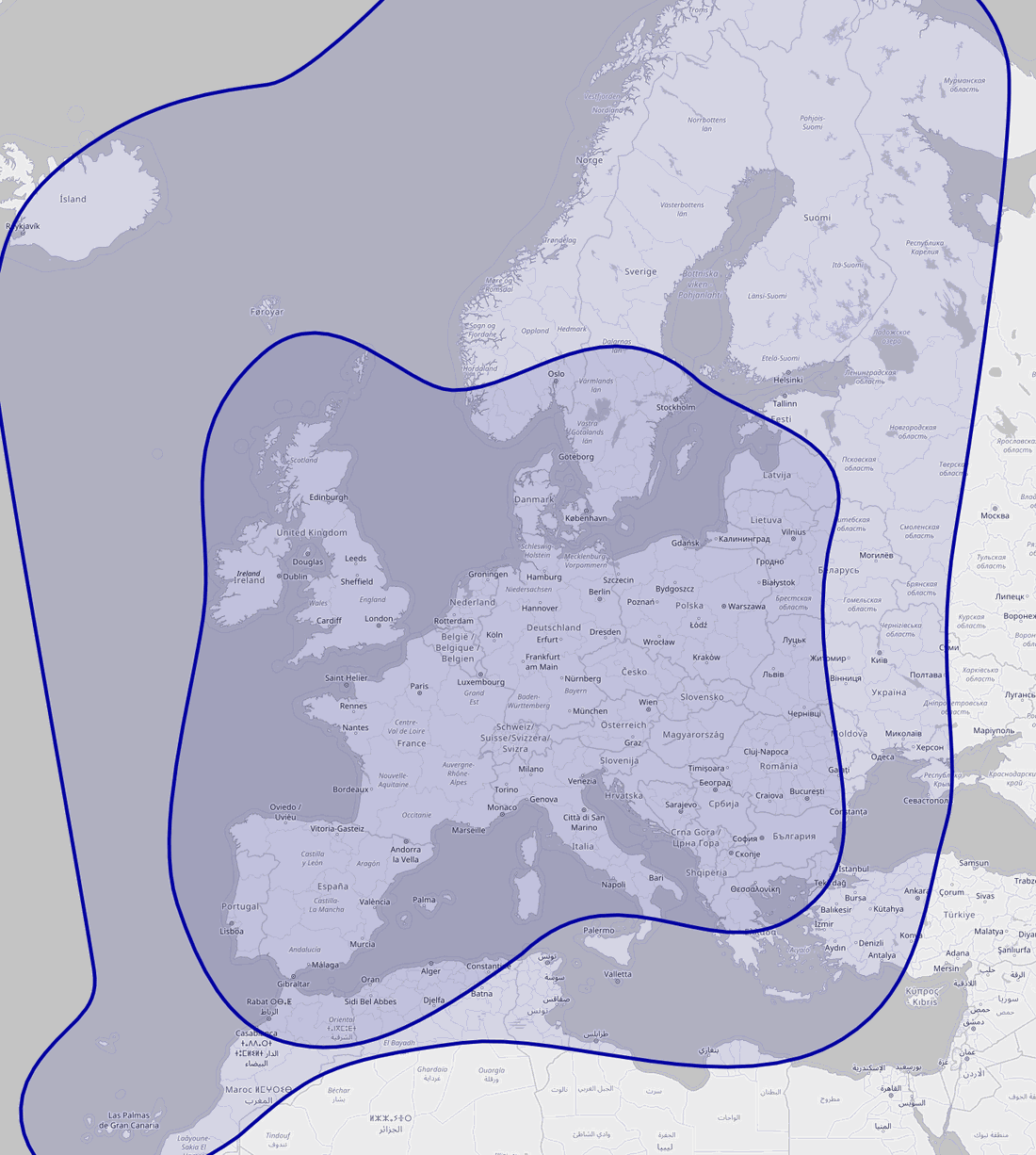 The map shown here is only intended to give a rough first overview. In the peripheral areas, some stations may still be receivable, but others no longer. Here you always have to distinguish which one Beam is used for the respective transponder; you can get exact footprints e.g. B. Retrieve it in the Astra list at Lyngsat (second column from the right).
For the Astra core area (this is the inner area in the above illustration) a bowl size of 60 cm is sufficient. For the official footprint outdoor areas you need bowls with a diameter of 120 cm. If bowls with significantly larger diameters are used, the area can be stretched a little bit beyond the official footprint. If in doubt, you should ask in a topic-related forum whether someone has experience with reception in your target area.
Hotbird satellites
The Hotbird satellites at 13 ° East with their wider transmission area used to be an interesting alternative if you were outside the Astra area. Unfortunately, the German-language channels have now almost disappeared from Hotbird; only SRF Info (news channel from Switzerland), the French version of Arte (which can be switched to German soundtrack) and a few special interest channels (also with switchable German sound) have remained. On German-speaking radios, Hotbird practically only offers SRF radio programs from Switzerland. (The Hotbird list at Lyngsat always shows the current status.)
The footprint extends to the north of Algeria, Libya, Egypt and Saudi Arabia in the south. Kazakhstan and roughly the western half of Russia can be reached in the east. In the west and northwest, the Azores, Iceland and a small part of Greenland are also illuminated by Hotbird. However, in the edge areas for Hotbird reception, dishes several meters in diameter are required.
DeuKom - South Africa
If you live in South Africa, you can subscribe to a solid selection of German television programs (currently 22) and radio programs (currently 10) via DeuKom. The programs are broadcast live and are part of a South African pay-TV service. DeuKom will provide you with the necessary satellite equipment.
Technically speaking, the reception of DeuKom also works in some neighboring countries as well as around Kenya and Nigeria (see footprint). However, there is no official subscription available there, so you have to get it through intermediaries or acquaintances in South Africa. Outside the core area you have to use larger bowl diameters, so you can usually not use the bowl supplied by DeuKom.
A "locational advantage" of South Africa is the small time difference compared to Central Europe (1 hour for European winter time, none at all for European summer time). That makes the live takeover of the channels reasonably worthwhile.
DishNetwork - USA
There is no satellite provider in North America that simply retransmits the original stations from Germany live (like DeuKom in South Africa). It would hardly make sense because of the large time difference. In the USA, however, a few German channels are offered as pay TV via the Dish Network satellite platform:
Under the name of ProSiebenSat.1 World there is a foreign television of the Pro7-Sat1 group with series, news and sporting events. My German TV mainly takes on entertainment programs from the public broadcasters. My German TV + specializes in selected sporting events from Germany and Europe; in particular, this includes all games in the Bundesliga. In addition, there are two news channels with the German version of EuroNews and DW-TV.
From a purely technical point of view, the reception of German channels on DishNetwork also works in Parts of Canada and Central America (see footprint). However, no official subscription is available in these countries, so you have to get it through intermediaries or acquaintances in the USA. Outside the core area you have to use larger bowl diameters, so you cannot use the mini bowl supplied by DishNetwork.
American cable television
In addition to Dish Network, DW-TV is also available in some North American cable networks, in Canada, in selected cable networks in Mexico and in Chile. ProSiebenSat1.Welt is also making efforts to feed more and more cable networks in the USA and Canada; a comparison of the locally available offers is therefore worthwhile.
Note: Unlike in Germany, the entire program in North America is encrypted and subject to a charge - so there is practically no free satellite reception. Therefore cable TV is not necessarily more expensive there than satellite TV. Both are quite expensive compared to cable TV and pay TV in Germany.
Deutsche Welle TV via satellite and cable - almost worldwide
The only German channel that you can get free from the sky outside the Astra and Hotbird region is the German-language version of the state foreign program Deutsche Welle TV (DW Deutsch and DW Deutsch +). The necessary reception systems and the size of the dish differ depending on the satellite position, broadcast standard and broadcast frequency. Whether free reception is worthwhile in individual cases must be weighed up against alternative reception options: Deutsche Welle TV is also offered worldwide in many cable networks and pay-TV satellite packages. This means that reception is often less expensive than free satellite reception, despite the monthly costs.
Please note: From today's point of view, receiving Deutsche Welle using complex satellite systems is only an emergency nail - so it is only recommended in the few cases where you would otherwise no longer be able to get a program from Germany. As soon as you have sufficiently fast internet access on site and can use other offers (see below), receiving Deutsche Welle is no longer worthwhile.
Radio stations on medium and short wave as well as DRM
The worldwide reception of German radio stations on medium and short wave was already known in Grandpa's time. In the age of Internet radio (see next section), this type of reception is becoming increasingly uninteresting - especially since the sound quality sounds more than modest to today's ears. In addition, more and more transmitter locations are disappearing because their operation is simply no longer worthwhile. In the German language, medium wave and short wave are as good as extinct.

For some time the digital shortwave standard applied DRM (Digital Radio Mondiale) as possible resuscitation. Thanks to MPEG4 coding, it is roughly FM quality and should replace the previous analog shortwave. Corresponding radio receivers and USB solutions for existing computers can still be found on the market in isolated cases.
There are countries (especially in Africa) where the DRM standard is still traded as an interesting alternative for local radio broadcasting due to inadequate infrastructure. In the industrialized countries, however, things look different: Deutsche Welle and other German radio providers have stopped their DRM broadcasting after the end of the trial phases. DRM no longer offers anything for Germans abroad.
.
Video and audio streams via the Internet
The is becoming more and more important Broadcasting on radio and television via the Internet. Some experts even assume that the Internet will replace all other reception channels in the long term.
A distinction is made between live streams (the current program live, only delayed by up to 30 seconds due to the transmission in packets) and streams on demand (programs or excerpts from programs that can be accessed at any time).
If the provider uses a contemporary format (based on HTML5 video), a modern browser should be able to play such content on its own. A suitable player must be installed as a plug-in only for the few Internet sites that still use Flash or other outdated formats (which, for example, cannot be assumed in Internet cafés - and is no longer possible on most smartphones and tablets).
The bandwidth required for reception is very different. Ideally, senders use a multistream so that the data rate (and thus the quality) can be adapted to the connection used. Radio stations can certainly be heard properly with a data rate of 30 to 40 kbps. If necessary, this transmission can already be received with a modem connection. Even radio streams of the highest quality do not need more than 320 kbps and no longer noticeably burden a modern broadband connection.
However, television stations cannot be viewed satisfactorily with such bandwidths; bandwidths of 2 Mbps and more are recommended for this (i.e. DSL-2000 access or similar), and even then the quality does not correspond to what we are used to from conventional broadcasting. A DSL 16,000 connection is now the minimum requirement for really good, stable online video in HD quality. VDSL, fast cable internet or direct fiber optic connections are better.
The nice thing about streaming video and audio is that you can basically see or hear it anywhere in the world where there is stable internet access. However, it is not yet possible to rely on the security of reception of conventional reception channels, because the Internet has to suffer from data bottlenecks at times, which are particularly fatal for live streams; Broadband HD television broadcasts in particular will not always arrive at the other end of the world without dropouts. The problem is likely to decrease as global data connections expand.
But even if the technical side meets all the requirements, one cannot hope for free reception. For licensing reasons, not all Internet offers are made accessible anywhere in the world, but rather restricted to certain regions ("geoblocking"). You can bypass these restrictions - but that does mean a certain amount of effort (e.g. monthly costs for a stable, brand-new VPN service).
Streams directly from the broadcaster
There are from Germany Radio streams in a wide selection. The ARD houses participate with most of their radio stations, and many of the private radio stations can also be received freely on the network. Due to the low bandwidths, interference is rare. So there is a good chance of getting your own favorite radio station far away from home. Corresponding links can be found on the homepages of the respective broadcasters.
It is different with Television channels. Here the freely available offer is severely limited for licensing reasons. The easiest way to do this is to broadcast stations that broadcast 100% in-house productions and are therefore somewhat more independent of licensors. Typically, this only applies to the shopping channels.
Streaming services
Providers such as Zattoo and MagineTV allow live streaming of TV stations via a common platform. If you are registered with one of these services, you will get a whole series of German TV channels streamed live on your computer screen, tablet, smartphone or smart TV (only with the typical internet delay of maybe twenty seconds).
If you limit yourself to reduced quality public broadcasters, the offer is free. The reception of private channels and additional services (HD quality, recording or time-shifted television, etc.) are available for a monthly fee.
The catch for Germans abroad: The German channels can only be received if you go to the Internet from Germany. This has something to do with regional broadcasting licenses - and it is ensured by effective technical barriers ("geoblocking").
For trips within the EU, there are now exceptions: Here, the providers must enable the streaming of the channels booked at home. Unfortunately, this rule only officially applies to travel and not to long-term stays abroad; it is therefore possible that EU access will still be blocked after a certain period of time. In addition, it only applies to paid services - not to the free basic offers.
In cases in which the EU exemption does not apply (i.e. in particular for stays outside the EU), streaming services can only be used via VPN (see below).
Media libraries
There is a wide range of on-demand video streams in the TV broadcasters' media libraries.Programs are usually available for retrieval after they have been broadcast for the first time in Germany - but sometimes even in advance. A big advantage - in addition to the free availability - is the time independence: You watch a program when you have the time and inclination. This is a considerable advantage for people who are far outside the Central European time zone - but other travelers and professionals cannot always use the broadcast times as well.
Almost all recently broadcast information and entertainment programs can now be found in the media libraries. The private broadcasters now also put almost all of their own programs online for a while free of charge; however, you have to - understandably - watch a lot of advertisements there. In the case of purchased material (feature films, international reports, sports, etc.) it depends on what the usage contracts look like; some things are unfortunately only allowed to be broadcast live and not offered in the media libraries.
There is no fundamental geo-block in the media libraries of German television stations that prevents programs from being accessed from abroad. However, it can happen that individual programs that are problematic in terms of copyright are then restricted to retrieval from Germany. In extreme cases, it can even happen that an entire news program can no longer be viewed from abroad just because it contains protected recordings of an international football match or an Olympic broadcast. In these cases, the media libraries can only be used from abroad via VPN (see below).
Online video rental stores
The so-called online video libraries such as Netflix, Amazon or Maxdome function in a technically very similar way to the media libraries of television broadcasters. However, since they are chargeable, the aforementioned EU exemption applies to them, which allows temporary use of the booked services from other EU countries. If you want to use it outside the EU or, in the long term, in other EU countries, you can call up the German offer from abroad using VPN (see below).
However, these services work internationally and can also be booked directly in other countries (with a slightly different offer). Here one should carefully compare and weigh up, because the non-German offer can be an advantage or a disadvantage: In some countries new films are offered earlier, in other countries later. Who z. For example, if you live in the USA, you may prefer the offer there to the German offer because new American series run a little earlier there. But if you also want to watch films with a German sound abroad, you will usually only find it in the German range.
Overall, the importance of online video stores for the "connection to Germany" is only minor, because the majority of the offerings consist of international films and series. Anyone looking for the latest documentaries and news from Germany is better off with the media libraries of the television stations.
Bypass geo-blocking through VPN services
The most common method today to bypass geoblocking is to use a "Virtual Private Network" ("VPN" for short). Some providers also call themselves an "anonymization service", but the principle is always the same: the foreign Internet access is redirected via a proxy server in Germany. The proxy server uses a German IP address and pretends to the streaming service that you are accessing from Germany. In reality, however, the data is passed on to wherever you are; the streaming provider's server does not notice this and therefore cannot block access.
Video streaming (especially in HD quality) requires stable bandwidths. It is therefore important to find a good VPN service that does not become a data bottleneck when the traffic is heavier (e.g. in the main evening) and slows down the transmission. In addition, it has to be a service that has a proxy server in Germany - because access to geoblocked German streaming offers only works via German server locations.
As a rule, a good VPN service costs between 5 and 10 euros per month. They differ in terms of bandwidth and the permissible monthly transmission volume. There are also free VPN offers, but they are deliberately limited and therefore not powerful enough for HD video streaming.
Sometimes the streaming services try to prevent the use of VPNs - e.g. B. by blocking IP addresses that are suspected of belonging to a proxy server. The server will then change its IP address for a short time so that it works again for a while. But it remains a game of cat and mouse between those who have to enforce the barriers and those who bypass them. There is no guarantee that it will function smoothly for a long time.
The easiest way to use a VPN is to use a normal computer; there is VPN software for Windows, MacOS or Linux. Appropriate apps are also available for Android and iOS, so that it can be used on smartphones and tablets. If you want to use a streaming service directly from a smart TV, you have to find out whether there are also compatible VPN apps available. As an alternative, it would be conceivable to carry out the proxy redirection of the VPN service directly in the Internet router; that depends on which router is available on site and whether it has such a functionality.
Online video recorder
Unfortunately, the offer of the media libraries is not complete, because the broadcasters are not allowed to broadcast certain programs online due to a lack of licenses and moreover can only offer most programs for a limited time. In addition, there are restrictions due to the protection of minors (e.g. the regulation that FSK18 programs can only be accessed from 11 p.m.). For these reasons, it can still be worthwhile to record programs yourself. The operators of the 'Save.tv' and 'Youtv' sites offer an "online video recorder" for a monthly fee, which is supposed to work like a video recorder at home - without any restrictions in terms of the programs to be recorded and the timing of playback. The recordings can then be accessed in the form of a streaming file that can be downloaded and viewed from any broadband Internet connection. The file size and thus the image quality can be reduced if necessary so that the programs can also be viewed from a slow internet connection.
The streaming services (see above) now also offer an automatic recording option, so that a pure online video recorder appears superfluous at first glance. The big advantage of the special online video recorder, however, is that access (at least so far) is not subject to geoblocking and you can therefore access the recorded programs from almost anywhere without VPN services or other tricks. If you live in a time zone far away from Germany (where live reception would be impractical anyway), you can get along with an online video recorder and save yourself the hassle of live streaming via VPN.
Own VPN or streaming server
Both streaming services and VPN services are external service providers with whom you have to conclude a contract for a monthly fee. Anyone who still has an apartment with broadband internet access in Germany can set up both services themselves and save the external service providers. Whether this is also a big financial saving has to be calculated on a case-by-case basis: Instead of the monthly fees for the service provider, you have to include the hardware and electricity costs for your own solution.
In any case, if you want to build your own solution, you should be fairly fit when it comes to computer technology and entertainment electronics. Another requirement is internet access with the highest possible upload bandwidth. (Internet access advertising often only advertises the download bandwidth. However, the upload bandwidth is lower.) For streaming HD video, at least an upload of 10 Mbps should be available in order to allow for reserves. At the other end, i.e. at the new place of residence, you "only" need a broadband downstream to receive the program.
You have two options to choose from: You can set up your own streaming server or operate your own VPN.
(I ask for your understanding in advance that I can only describe the basic procedure at this point and cannot provide any specific instructions.)
A own streaming server means that you receive the programs yourself (this can be done either via satellite dish, cable TV or antenna) and then transmit them via the Internet to the desired connection at your place of residence. To do this, you can install a receiving system anywhere in Germany; in the case of satellite reception, it should also be elsewhere in Europe (the main thing is within the footprint of Astra 19.2 ° East). If you no longer have an apartment in Germany / Europe yourself, you can alternatively connect to an existing reception system (e.g. in the basement of friends - but they have to be very good friends).
Then you need a server that streams the program - and, if the upload bandwidth is not sufficient for the original quality, compresses it down to a lower quality beforehand. This server can be a computer with suitable software or a special device. If you can live with reduced image quality, affordable devices such as Slingbox or PCTV Broadway, which can also be set up by interested laypeople, are sufficient. For higher demands you have to put something together yourself, e.g. B. on the basis of a self-configured mini PC. The received signal can come from a DVB card or from a receiver with Sat-over-IP functionality. Alternatively, there are Linux-based receivers on which you can install suitable streaming software directly; How well this works must be tested on a case-by-case basis. It is important that the software also provides for remote control from where you are - because this is the only way to switch between the programs.
The big advantage of such a do-it-yourself solution: In contrast to using streaming servicesno legal restriction whatsoever and can continue to stream absolutely everything that is received at the receiving location.
The alternative would be a own VPN server, which anonymizes the internet access and fakes the streaming providers access from Germany. At first glance, this is not as complete a solution as your own streaming server, because it still allows you to access the offers of external streaming services or media libraries. A private VPN is easier and faster to set up; In addition to just watching TV, it can also be used for other purposes (i.e. access to other Internet sites that otherwise only work from Germany).
A mini PC or a decommissioned PC is suitable as a basis for your own VPN server; then there is special software. There are also Internet routers (e.g. certain FritzBox models) with which you can set up your own VPN service without additional hardware. Of course, everything needs to be tested well - especially with regard to the achievable transmission bandwidths.
Due to the necessary internet access in Germany / Europe, due to the complex setup and maintenance (the system may have to be updated or restarted from time to time) and of course due to the constant need for electricity, private streaming servers and VPNs remain an option for technology freaks and really die-hard television -Fans among the emigrants. Most "normal" TV enthusiasts will be better off with commercial streaming services, VPN services and / or online video recorders.
Author: Andreas Beitinger
Last change: July 2018
.
Contact address for criticism and suggestions about this page:
[email protected]
(Your purchase from Amazon supports this website.)